About the Television Series
Mr. Ed the talking Horse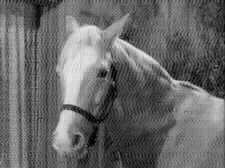 click Mr. Ed for Real Audio music


Mr. Ed was a parade and show horse, named "Bamboo Harvester". He was foaled in 1949 in El Monte, California. The Mister Ed Company bought him & had been owned by the president of the California Palomino Society. His trainer was Les Hilton, who had apprenticed under Will Rogers and worked with the mules in the Francis the Talking Mule movies. Mr. Ed did many of his scenes in one take.On a television special Alan Young was interviewed and said that they used peanut butter for the horse to eat so he would move his mouth. In 1968, Mr. Ed was 19 years old and began to suffer from a variety of problems, including a broken leg. He was put quietly to sleep with no publicity. The horse which died in Oklahoma in 1979 who everyone thought was Mr. Ed, was a horse who once posed as Mr. Ed for publicity photos used by the production company. There has been a long lasting secret to when & where the real Mr. Ed died. Was it before or after 1970? It is very possible that poor old Mr. Ed's life may have ended in the Santa Clarita Valley of southern California.

| | |
| --- | --- |
| This series is about a talking horse and the architect who loved him. It was a syndicated series on January 5, 1961 and aired on CBS by programming chief James T. Aubrey, on October 1, 1961. The show lasted until September 4, 1966. Arthur Lubin, was director, who also directed the early films of Abbott and Costello, & Francis the Talking Mule films. The pilot for the series was entitled "The Wonderful World of Wilbur Pope." Produced by George Burns, the pilot never aired. Mr. Ed became my favorite show. Wilbur had to keep the secret that Mr. Ed the horse could talk. Mr. Ed only spoke to his owner Wilbur Post (played by Alan Young) who worked as an architect out of his office in the barn at 17230 Valley Spring Lane. Mr. Ed did talk to children on several episodes. Mr. Ed told Wilbur - "Who would believe a kid saying a horse can talk?" | |


Mr. Ed used the telephone through
out the series
Mr. Ed continuously becomes involved in comedy situations, such as riding a surf board, flying an airplane, giving a birthday party with all his horse friends, driving a delivery truck, wearing a Beatle wig, flying a kite, delivering newspapers, meeting baseball player Leo Durocher. Zsa Zsa Gabor was a guest on one of the shows. George Burns also made an appearance on the series. Donna Douglas, the actress who was "Elly May" on the "Beverly Hillbillies" comedy series in the 1960's. She acted as Clint Eastwood's girlfriend on one of the shows. That was when Clint was starring on "Rawhide" television western series.

Mr. Ed is a favorite of Classic TV show. It has been on Nickelodeon Nick at Nite on February 15, 1986. It was shown on TV Land on satellite Satcom C-3 transponder 18 & cable stations but has been taken off the program schedual as of April 27, 1998.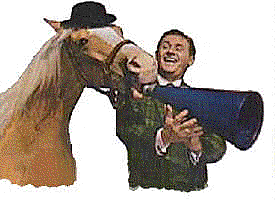 Mr. Ed won some Patsy Awards. (Oscars for animals)

In 1962 & 1963 Mr. Ed won 1st place for the "Mister Ed" series. Mr. Ed was awarded 2nd place in 1964, then 3rd place winner in 1965. The catogories include all types of animals not just horses.



Mr. Ed was so popular there was a talking puppet made by Mattel toy company, I just happen to have. It has recordings in the same voice as the television series. Quotes such as:
I'm a horse of course, & Oh horse feathers.

Note: Loretta was a neighbour to Les Hilton
Comments & Info From:
May 1998 Loretta Kemsley
Mister Ed was nine years old when Les Hiton purchased him. Ed suffered from arthritis in the last years of his life. When the pain became too much, he was put to sleep. Most horses live until their early 20s. Ed's "horse double" was named Pumpkin. I lost track of Pumpkin. I believe he was with the Ralph McCutcheon Stables when he did the snackpak commericals. Ed was with him when he died. I know that Ed died in the 70s, after Les had died.
established November 1, 1997