The movie Blazing Saddles was partly filmed at Vasquez Rocks located North of Valencia, Santa Clarita, Newhall, Saugus, Canyon Country in the state of California.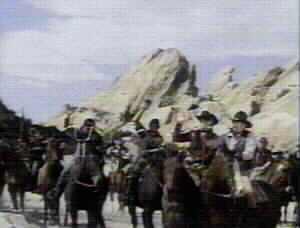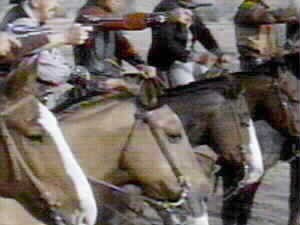 A few of the other horse stars of "Blazing Saddles" filmed at Vasquez Rocks

---
Big Red is a horse nobody knew when he was found wandering the streets wearing a Charro saddle. A concerned resident caught the tall sorrel Thoroughbred and then called the Ventura County Humane Society. The dirty, unkempt horse was limping, but otherwise OK. It was assumed that the gelding had escaped from a charreada rodeo and that someone would come along and claim him. This never happened. After the waiting the legally required time, the VCHS donated him to HorseAid and Red now awaits a loving home. We are only guessing at how the horse ended up a stray but since most of the stock performing in charreada rodeos later go on to slaughter after they are used up, Big Red was very lucky indeed to have escaped! (The lameness in his hind leg would indicate he may have been roped and thrown to the ground.)
Horse Fame has posted this important article for those of you who don't have the space on your computer to download large files or do not have Adobe Acrobat Reader program. See the web site on Horse Fame Links page
INTERNATIONAL GENERIC HORSE ASSOCIATION

---
SHOWS FILMED AT THE FAMOUS VASQUES ROCKS
The Family Channel 1998 movie "The Cowboy and the Movie Star" used the animals from World Wide Animals and they were trained by Shelly Davis.
Research continues.... more may be added.
---
Stars & Horse Stars

A Mr Ed Scrapbook

Clydesdale Scrapbook

A Fury Scrapbook

Dice the movie star horse

A Roaney Scrapbook

Silver the Lone Ranger's horse

Saddlebag Stories

more movie location sets
Links of some more Famous Horses

established December 27, 1997


---

---
All information listed on this site are for educational purposes.
Horse Fame is a free non profit service for the public.
Horse Fame does not benefit from any links or organizations listed.
HORSE FAME , established 1997.
Copyright © Horse Fame 1997 -